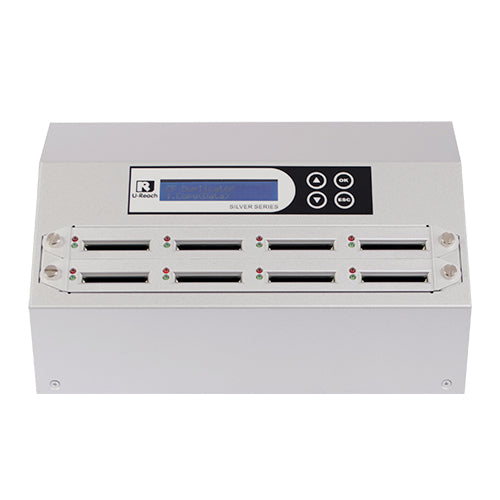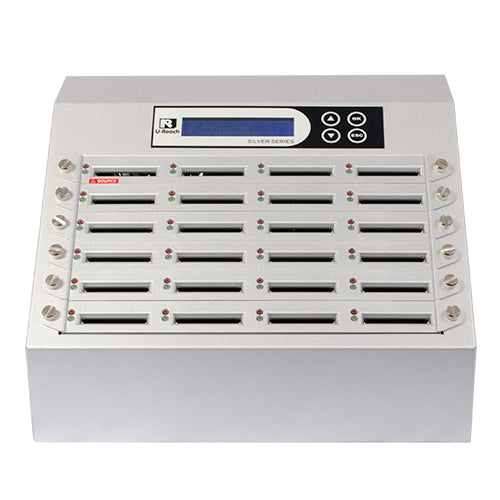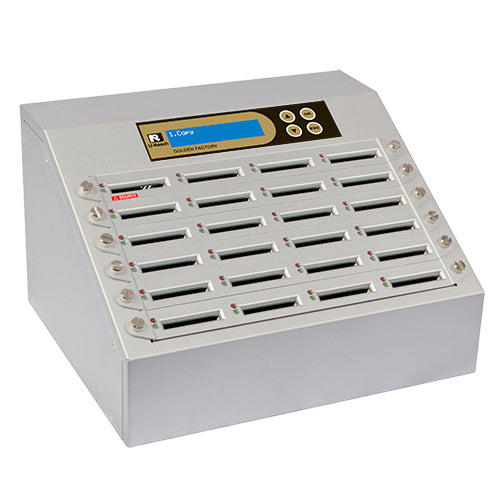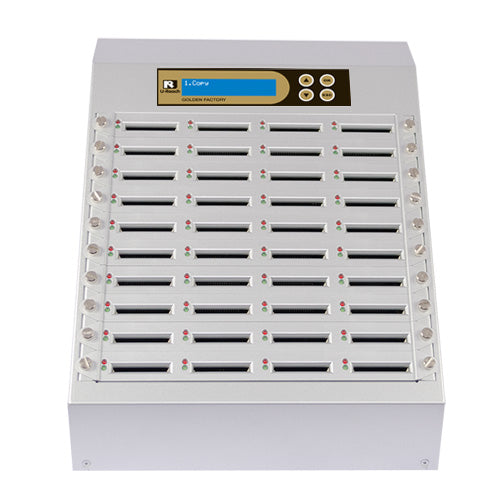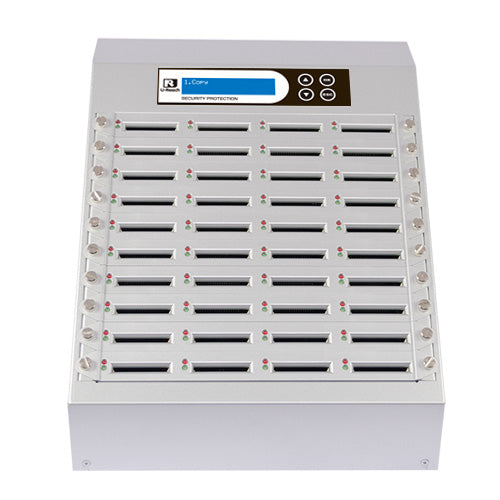 CF / CFAST Duplicator & Sanitizer
Description
Features
Specifications
Systems and Files (Quick Copy Mode)

1. The duplicator automatically copies only the data area, rather than the empty spaces within the capacity, which reduces the duration of the copy process.

2. This copy mode supports the file formats such as Windows (FAT16/32/64/NTFS), Linux (ext2/ext3/ext4), and Mac (HFS/HFS+/HFSX). If the file system format to be copied is not among the supported formats above, then system will automatically switch to "whole media copy" mode. 

Whole Media
1. The duplicator copies from the initial sector to the end, bit-by-bit.
2. There are no format limitation in this mode.

Data Sanitization
Quick Erase, Full Erase, and DoD Erase.

Quality Testing/Checking Functions
Our flash memory duplicator/sanitizer has built-in functions to inspect flash devices. It helps the user to identity and remove poor quality CF cards.

H3 Read Only Test
Determines if the flash is readable. This test will not modify pre-existing data.

Capacity Check
Verifies initial sector and the final sector the connected flash device within 2 seconds.

H5 Write/Read Test
Overwrites machine-generated values to all sectors in the NAND flash, and verifies them to determine quality. Once the test passes, then devices are formatted into FAT.

Read/Write Speed Check
This function performs a read/write benchmark of the connected devices within 8 seconds.

H6 Quality Test
Resembling the H5 test, it overwrites machine generated-values only to the empty sectors without disturbing pre-existing data, partitions, and formats.

Flash Speed and Capacity Filtration

Sets limit on lowest reading and writing speed and picks up Flash devices that are below the setting speed.

Sets "target tolerance". Picks up Flash devices that have exceeded the tolerance range.

 

Features
Descriptions
Operation Type
● Stand-alone, FPGA-based operation (Non-PC based system design).
Controller Design
● Embedded controller is designed to support capacities over 18TB+.
● Constant improvement supports latest market-available devices.
Bandwidth Performance
● Peak transfer speeds up to 3.9GB/min. (66MB/sec.)
● Dedicated bandwidth enables high-volume replications without speed
degradation.
Read-Only Source Port
● There are no options to disable this built-in feature and it is integrated
with all U-Reach duplicators.
Modular Socket Design
● Modular-designed ports effectively reduce downtime and is cost-effective
for long-term ownership.
Real-Time PC Monitoring
● View live status for: writing/reading speeds, total capacity, and current
function progress by individual ports.

Specifications
Descriptions
LCD Display
● 2x20 Backlit Monochrome LCD Display
LEDs
● 2 LED Indicators per Port:
● Green (Pass) and Red (Fail)
Control Panel
● 4 Push Buttons (▲, ▼, OK, ESC)
Power Requirements

● Power Adapter Input: 100-240VAC / 47-63Hz / 1.4A Max.

● Power Adapter Output: 12VDC / 5A

Operational Temperature
● 5°C ~ 45°C (41°F ~ 113°F)
Non-operational Temperature
● -20°C ~85°C (-4°F ~ 185°F)
Humidity
● Operating: 20% ~ 80%, non-condensing
● Non-operating: 5% to 95%, non-condensing 
Physical Dimensions (L×W×H)

● CF904S – 18" x 9" x 3.5"

● CF908S – 17" x 13" x 11"

● CF916S – 17" x 13" x 11"

● CF924S – 16" x 15" x 12"

● CF940S – 19" x 18" x 15"

Product Weight

● CF904S – 5 lbs.

● CF908S – 11 lbs.

● CF916S – 13 lbs.

● CF924S – 18 lbs.

● CF940S – 22 lbs.