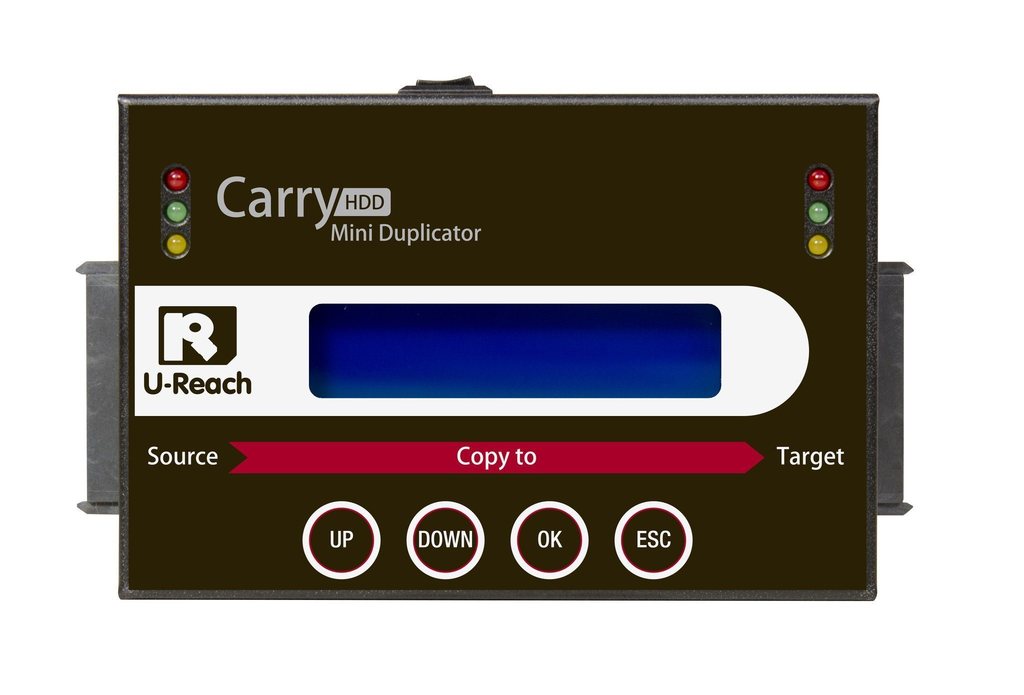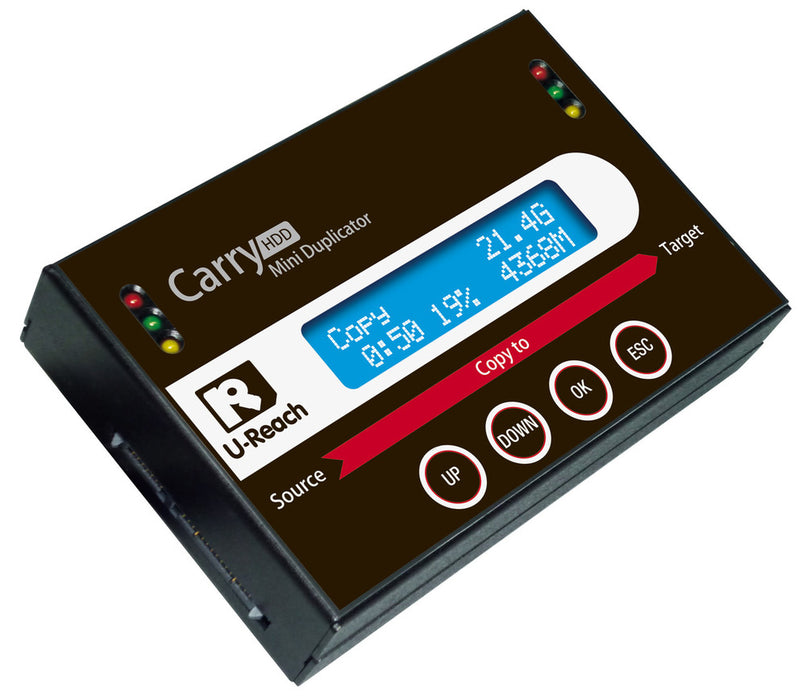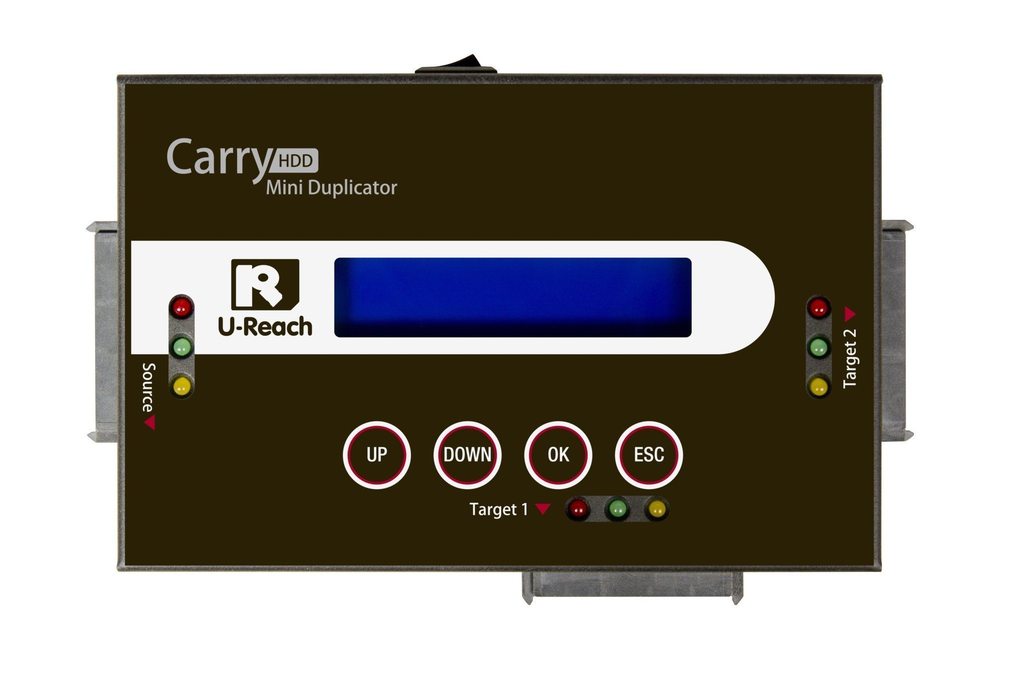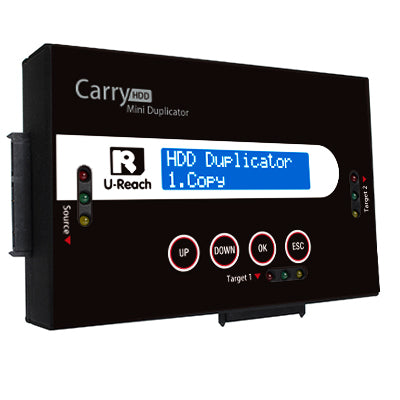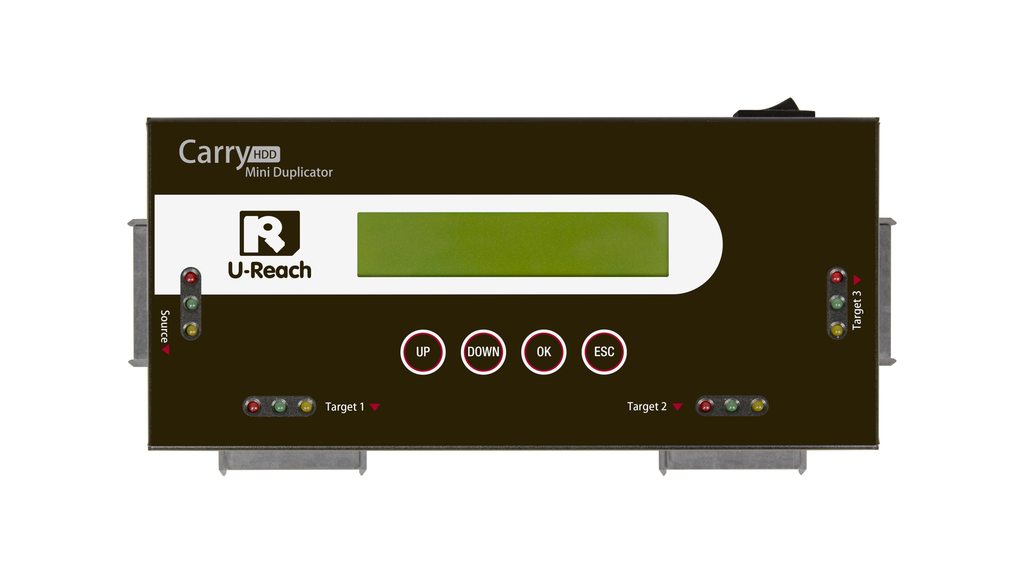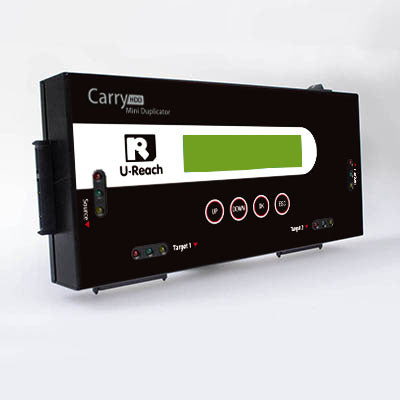 Mini Series HDD/SSD Duplicator & Sanitizer
Description
Features
Specifications
Intelligent Duplication Modes 
Illustration of Copy Modes

The areas containing data are marked in blue. The areas being copied are marked in red. Duplication time depends on the speed supported by the hard drive's controller chip.
Impeccable High Speed
U-Reach SATA HDD duplicator copies up to 9GB/min on all HDDs simultaneously, without any speed degradation as number of targets increase. This duplicator is great for manufacturers.
High Compatibility

Quick copy mode supports Windows (FAT16/32/64), Linux (ext2/ext3/ext4), and Mac
(HFS/HFS+/HFSX) formats.

Whole media copy mode supports all system and proprietary formats.

Supports various brands.

Designed to support 18TB+ capacities.

Supports MBR and GPT partitioning.

Sanitization methods

Quick Erase:
Erase HDD index table, and only takes A FEW SECONDS to complete.

Full Erase:
Erases the entire HDD.

DoD Erase:
Complies with U.S. Department of Defense erasure standards.

Secure erase:
A National Institute of Standards and Technology 800-88 accepted technique for properly purging hard drives. This method is supported by almost all modern SATA HDD.
Verification of Data Integrity

U-Reach duplicators makes straightforward copies, but it is imperative that the copied data are verified through a bit-by-bit process, this will ensure successful copied and reduce customer recalls.
Skipping Bad Sectors

End-users are given options to skip bad sectors from the source device. Access the function to select the numbers of bad sectors to skip, from 0 through unlimited.
Optional Adapters Supported
Event Log report

U-Reach HDD/SSD duplicators has an unique mechanism to prevent alteration of its Event Log Report. It records the operation results and other information of each devices completely. It is an important asset for production management and analysis.

| | |
| --- | --- |
| Features | Descriptions |
| Operation Type | ● Stand-alone, FPGA-based operation (Non-PC based system design). |
| Controller Design | ● Embedded controller is designed to support capacities over 18TB+. ● Constant improvement supports latest market-available devices. |
| Bandwidth Performance | ● Speed transfers of up to 9.0GB/min. (150MB/sec.) ● Dedicated bandwidth enables high-volume replications without speed degradation. |
| Read-Only Source Port | ● There is no option to disable this built-in feature and it is integrated with all U-Reach duplicators. |
| Modular Cabling Design | ● Modular-designed ports effectively reduce downtime and is cost-effective for long-term ownership |
| Real-Time PC Monitoring | ● View live status for: writing/reading speeds, total capacity, current function progress per port. |
| Event Log Management | ● Records: operating durations, individual port copy progressions, connected device models, capacities, serial numbers, and PASS or FAIL results. ● Device writing/reading speeds are recorded. ● Log report files are generated through the front USB port and are saved to USB devices. |
| | |
| --- | --- |
| Specifications | Descriptions |
| LCD Display | ● Backlit Monochrome LCD Display |
| LEDs | ● 3 LED Indicators per Port: ● Yellow (Power), Green (Pass), and Red (Fail) |
| Control Panel | ● 4 Push Buttons (▲, ▼, OK, ESC) and Asynchronous Erase Button |
| Power Requirements | ● Universal Power: 115VAC or 230VAC, 50/60Hz |
| Operational Temperature | ● 5°C ~ 45°C (41°F ~ 113°F) |
| Non-operational Temperature | ● -20°C ~85°C (-4°F ~ 185°F) |
| Humidity | ● Operating: 20% ~ 80%, non-condensing ● Non-operating: 5% to 95%, non-condensing |
| Packaging Dimensions (L×W×H) | ● MT600G – 419.1 mm x 419.1 mm x 279.4 mm (16.5 in. x 16.5 in. x 11 in.) ● MT1600G – 762 mm x 508 mm x 381 mm (30 in. x 20 in. x 15 in.) ● MT2600G – 762 mm x 660.4 mm x 457.2 mm (30 in. x 26 in. x 18 in.) |
| Product Weight | ● MT600G – 5.67 kg (15.0 lbs.) ● MT1600G – 14.06 kg (31.0 lbs.) ● MT2600G – 17.69 kg (39.0 lbs.) |
| Certifications | ● FCC, CE, RoHS |