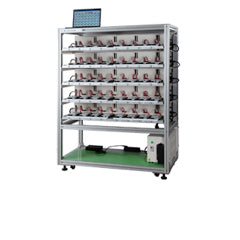 Deca YG1400R - 40 Port Rack System
40Port HDD performance inspection/deletion RackSystem
Features

SATA 6.0 Gbps interface supported
SATA 6.0 Gbps supported. Up to 144PB HDD is supported.
Register and edit inspection details (operation modes)
Operation modes can be registered and edited using script files in text format.
More accurate inspections can be performed using various types of inspections.
Provides high speed data transfer at 37GB/minute.
(*1 Theoretical value. Varies according to performance of connected devices.)
Deletion and quick diagnostics function
Equipped with overwrite deletion using specified values and DoD (Department of Defense) conforming deletion method.
Quick inspections such as SMART status, random seek inspection, entire area read/write inspection can be performed.
HDDs connected to each port can be executed, terminated, attached or removed individually.
Main Specifications

Supported Interfaces: SATA/ATA(ATA require the optional product)
Number of HDDs to be connected: 40
Main Functions: Various HDD performance tests